If you own a company and are looking to extend your marketing effort or are simply looking to bring a new vision to life, you will find a huge assortment of custom marketing materials at Want Stickers. Effective marketing isn't just about a strategy, it needs to be combined with tangible and powerful custom printed objects with your name, logo, artwork, and information. These items will help utilize all of your opportunities and build awareness about your brand or business. If you're in search of quality custom marketing products at a price you can afford, look no further.
Ways To Capture Your Next Client
Want Stickers can help you create lasting impressions for your business. Stop wishing you had a greater presence or reach, and start creating custom marketing materials that will have your potential clients or audience talking about your brand long after you're gone.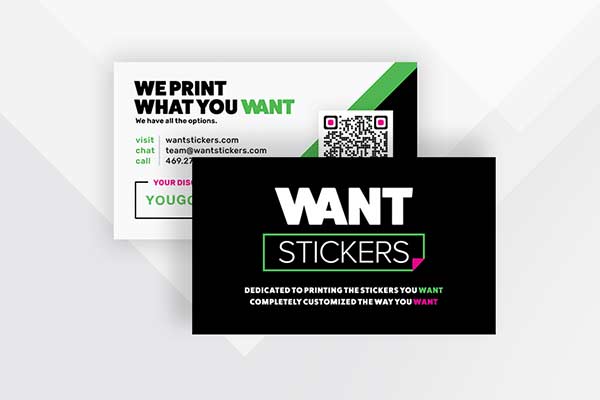 Ready to make a great first impression? Give every potential client and colleague a piece of your brand with professionally printed business cards from Want Stickers. With completely customizable options, it's easy to find the card that fits your business. Create personalized crisply printed text and graphics that reflect an attention to detail. Let Want Stickers help you create custom business cards you'll be proud to show off.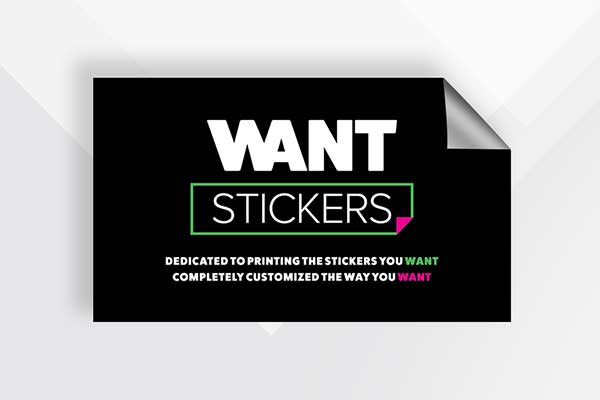 Are you tired of the old traditional business card handouts and ready for something exciting? Try our new sticker business cards! These are quickly becoming the next big thing in business. No more worrying about clients stuffing your card into their desk or wallet, never to be seen again. With sticker business cards from Want Stickers, your information can be stuck clearly in plain sight to leave a lasting impression.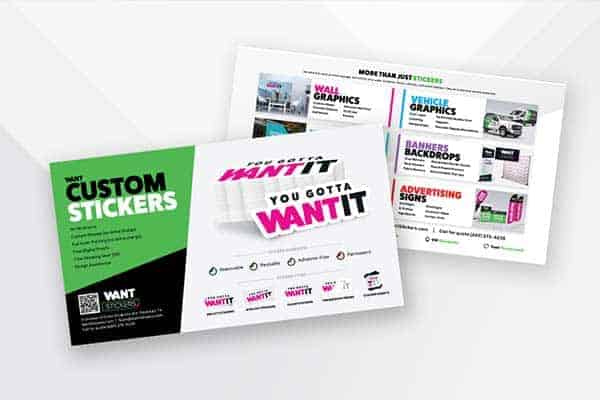 Don't underestimate the benefits of traditional flyer printing. Although it seems that digital ads and social media are dominating the market, posters and flyers are still one of the most effective promotional tools out there today. Custom printed flyers can be used to promote products, advertise events, or announce upcoming sales. Let Want Stickers help you increase Brand Awareness with this cost-effective advertising staple.
Tell Us What You
Want

and We'll Deliver
Quality custom marketing materials will set you apart from your competition
We just need a little information regarding your inquiry and our team will contact you with follow up questions or quote.