How to Choose The Right Cut Type
To make it simple, the big difference between the two cut types is more about the backing, and not the actual sticker itself. A die-cut sticker is cut straight through the vinyl AND paper backing to fit the exact shape of your design. While a kiss-cut is only cut through the sticker, not the paper backing. So this style has a larger square backing around the cut sticker.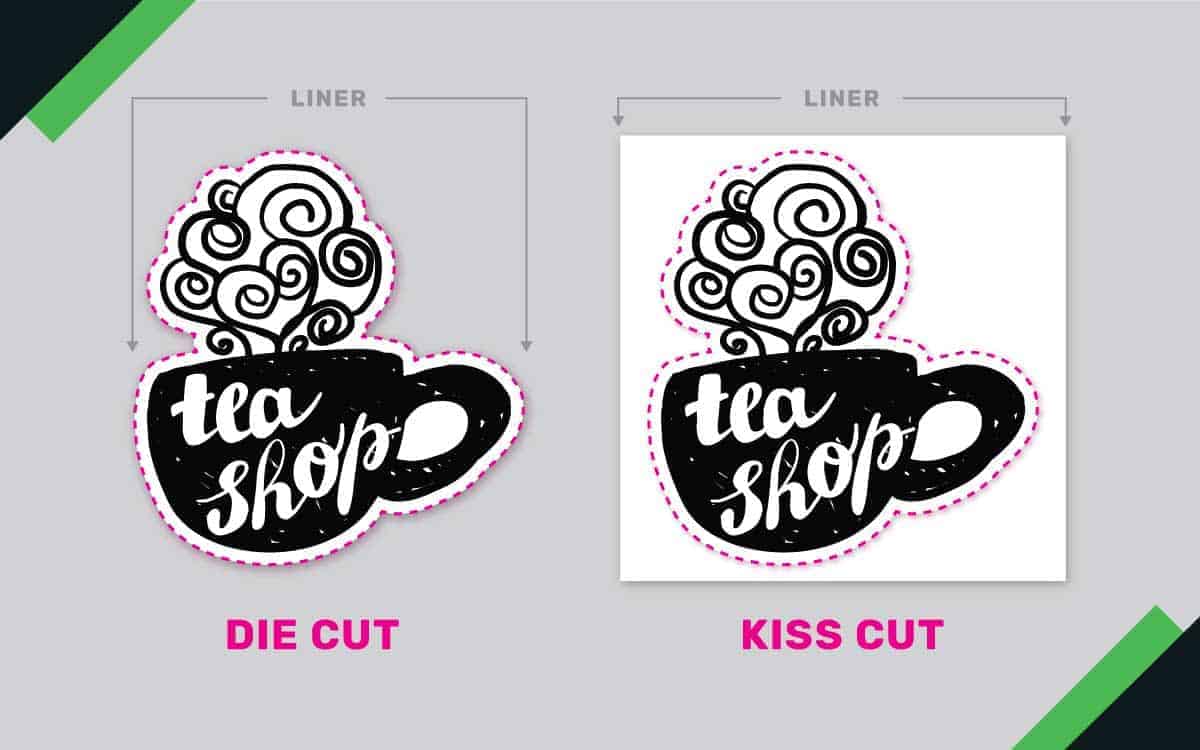 Once removed from the backing, both designs will look exactly the same once they are applied to your surface. So, which cut type is right for you? Both die cut and kiss cut stickers are fantastic options, so which one you choose is really up to your preference. Both offer a great way to add a customized touch to any promotional campaign. Both options are also durable, practical, and uniquely designed.
The most important feature of a Die Cut Sticker is how the backing of the sticker aligns to the shape and size of the sticker itself. Die cut stickers can be virtually any size or shape you desire, and our design team will help to ensure that your cut is clean, well placed, and looks professional. Die Cut Stickers from WantStickers are also available in three adhesive strengths. Choose from removable, reusable, or permanent. They also include your choice of protective UV laminate for longer lasting designs.
Benefits of a Die Cut Sticker
Clean & visually pleasing
Perfect for retail or promotional handouts
Presentable design that looks great on display
Kiss Cuts are light cuts on the surface of the stickers. This means that kiss cuts do not cut the backing of the material, but your custom shape sticker will peel from the backing smoothly. It also means that your sticker will have a square backing surrounding it. Some customers choose to add multiple kiss cuts to their sticker design to create custom sticker sheets. Kiss cut stickers are available in multiple adhesive options including removable, reusable, permanent, and clings. They also include gloss, semi-gloss, or matte laminate protection.
Benefits of a Kiss Cut Sticker
You can print on the vinyl around a kiss cut sticker to add extra style to your design.
Easier to peel
Protects delicate or complex shaped designs
Merchandise labels
Hang Tags
Regardless of whether you choose die cut or kiss stickers, Ordering is easy from WantStickers! Just upload your digital artwork, choose your size, adhesive, and laminate combination. Our talented team of designers is standing by to help you create beautiful custom stickers you will LOVE. If you need help, ideas, or inspiration just drop our customer service team a line and they will be happy to help you if you have any additional questions.