How To Utilize Stickers To Help Stop The Spread
Navigating through the pandemic has not been easy for anyone. Protecting our personal safety and wellbeing has forced us into a significant shift far from what any of us were used to. Responsibility of encouraging and enforcing social distancing, wearing masks, and maintaining a safe atmosphere is now up to the creativity of each individual company to introduce and implement.
Stickers and signage can help to play an important role while developing a personalized strategy for your business. Custom stickers and signs have always been an excellent go-to method for sending specific messages.  That is because they are a fast, inexpensive way for a business to effectively grab the attention of both their customers and employees.
Providing professional signage containing vital details can not only help your customers feel safe while in your space, but it can also guide them toward doing the right thing. 
When everyone first found themselves faced with a pandemic back in March, it seemed like all business owners could do was scramble to stay healthy by quickly mandating new safety measures for their customers and staff seemingly overnight.
Fast forward to now. Although business owners still want to ensure the safety of all patrons, they now have a little more breathing room to create the best experience possible.  As industry specialists, Want Stickers we can help by providing fully customizable, impactful store signage for any area of your business.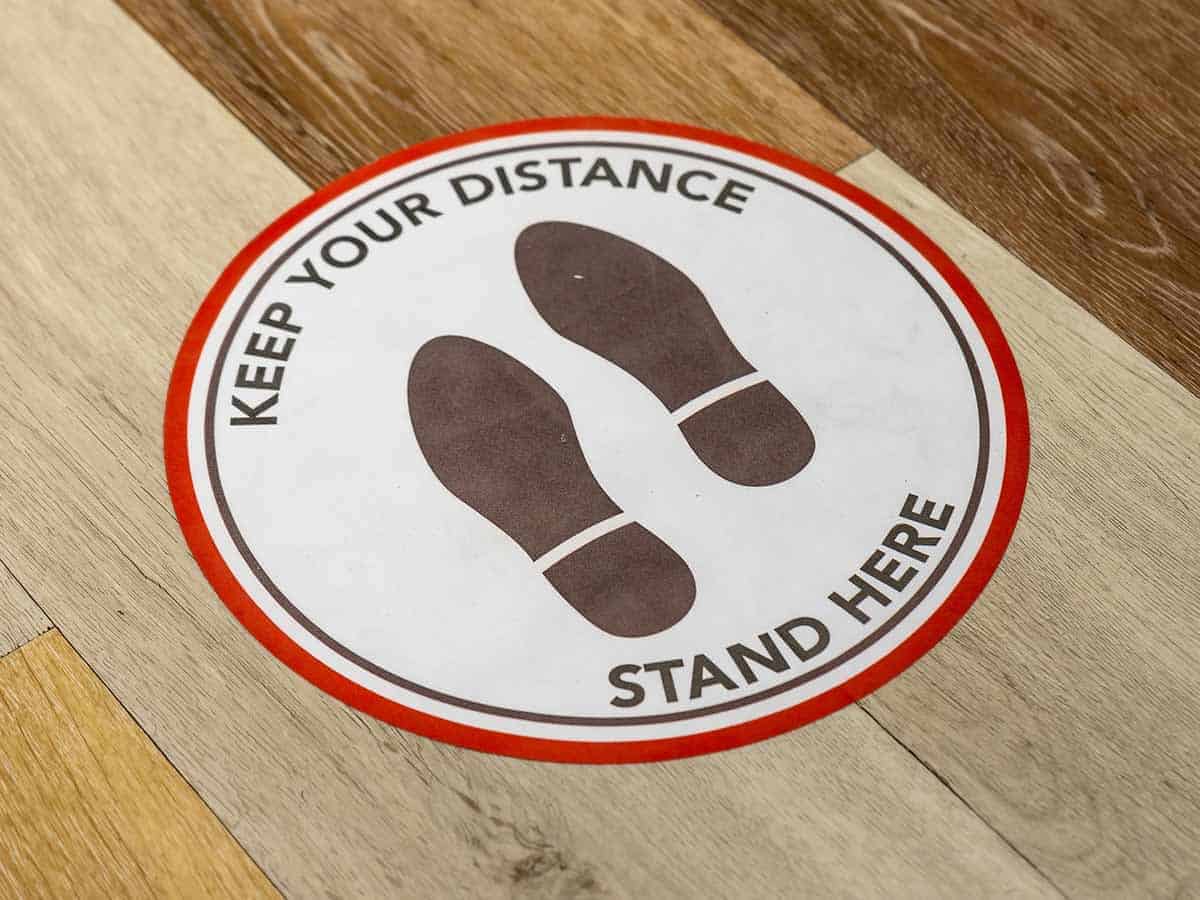 There are no set rules for maintaining a six-foot distance between people in public spaces or businesses. Still, social distancing has become much more than just a temporary recommendation and will likely remain in place for months to come. To aid with these efforts, many locations have found it helpful to mark out six-foot increments on the floor using graphics. Some stores have even gone as far as to start utilizing the added signage as a branding opportunity.
Using our customizable floor decals can help your business go a step above the same old generic "stand here" signs and instead allow you to incorporate your company colors, logo, or even vision onto each unique design. Floor graphics come in a variety of adhesive strengths for multiple surface types. They are also easy to apply and remove. This means they can be easily replaced when needed or discarded altogether once social distancing requirements ease.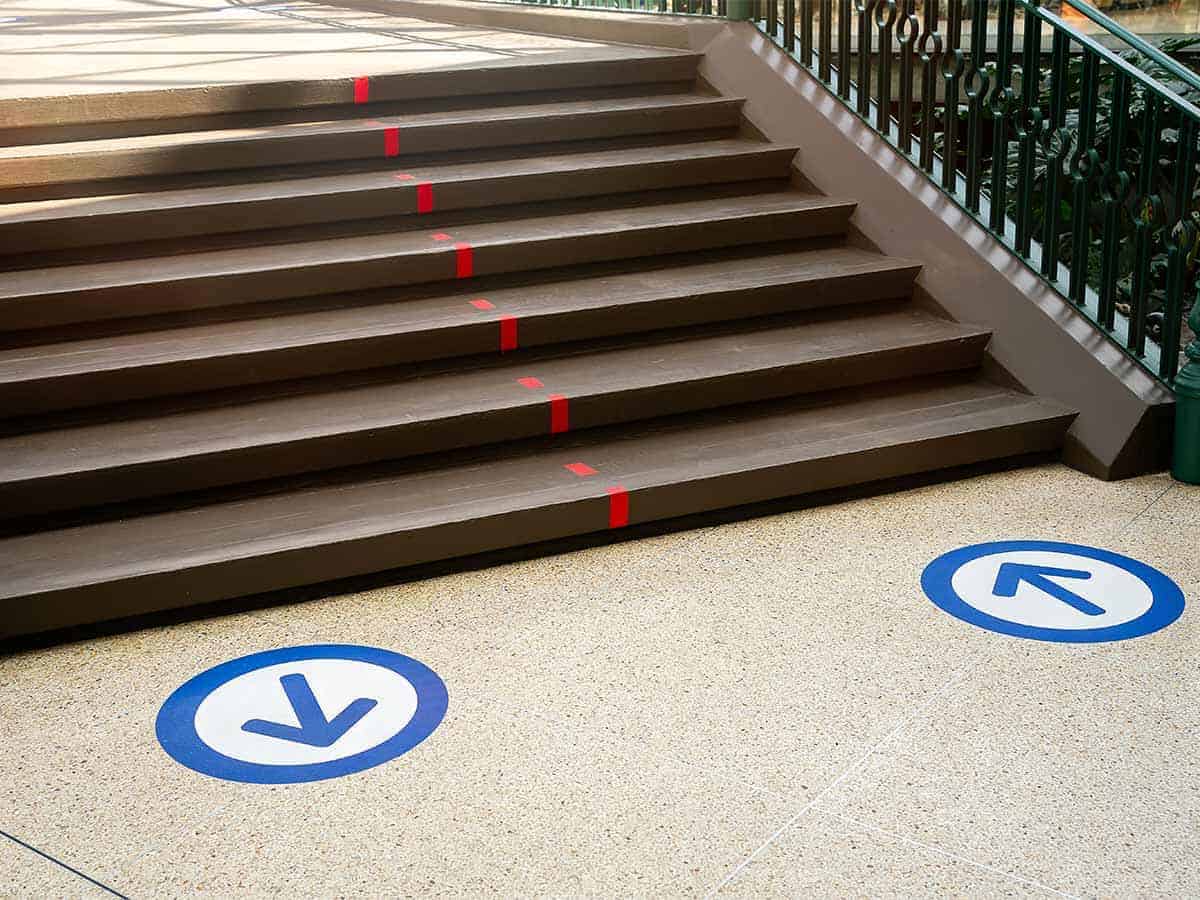 To help control congestion and limit unnecessary exposure, many different business types have begun to utilize directional flow within their store or facility. Implementing directional signage not only helps control traffic but also decreases contact with others. Whether you're looking to create on-way aisles or label specific doors for entry and exit, directional signage is a must to outline these changes. At Want Stickers, we offer a wide range of custom sticker and decal options perfect for any directional need. Whether you're looking to apply your signage to walls, windows, or floors, we can help you get the job done.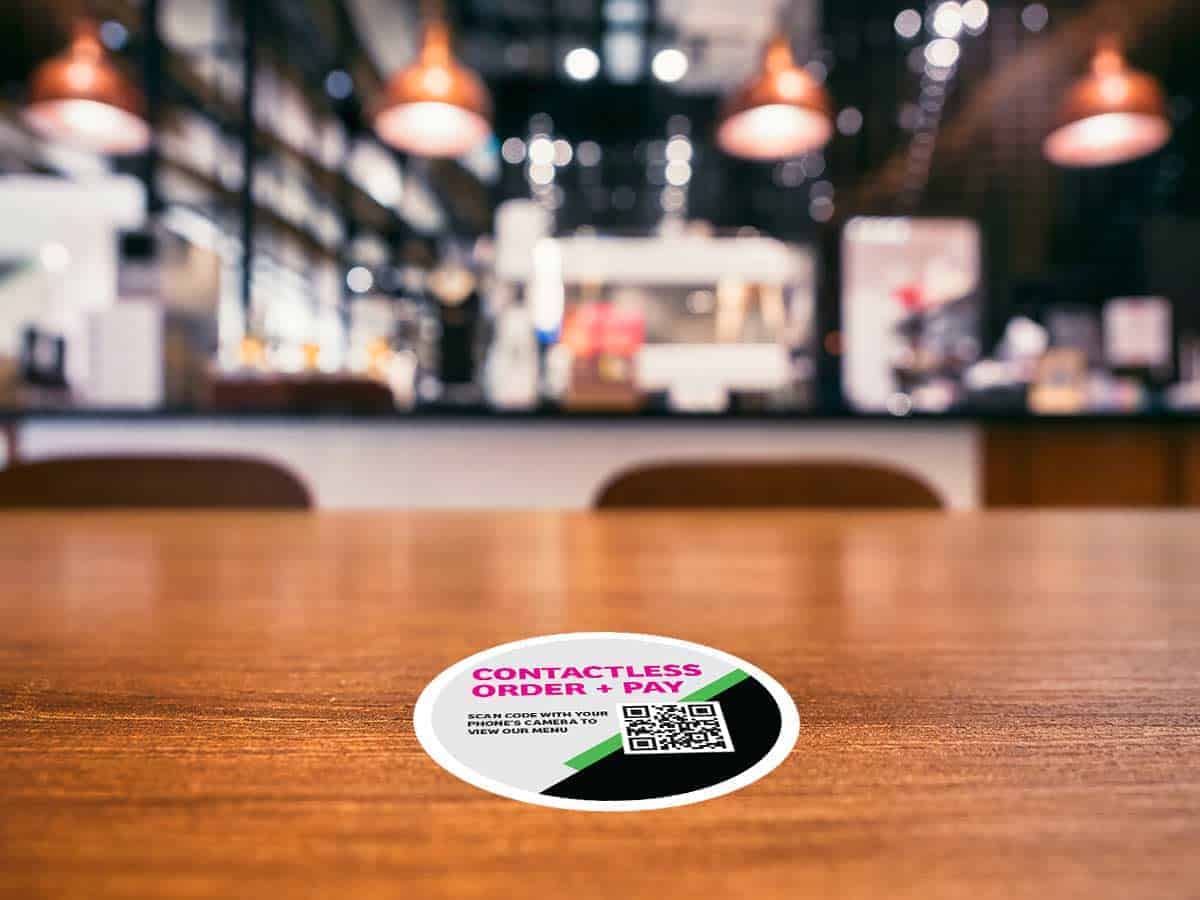 In order to reopen from COVID-19, restaurants have had to create new policies and procedures to curb the risk of cross-contamination and unnecessary exposure to germs. One of the most obvious changes for restaurants is the move from physical menus to contactless menus. This change was just one of the many ways that restaurants have begun to be more mindful of the things we come in contact with while out in public.
If you aren't familiar with these, contactless menus feature QR codes that customers point and scan with their smartphone's camera, which then takes them to an online digital menu. Now that they have the menu pulled up onto their own personal device, they can browse food and drink options safely and without risk. A great way to provide these contactless menus is as a small table-top kiss cut vinyl sticker. These decals can be easily wiped down and sanitized. They also replace the need for physical menus on the tables – meaning a safer experience for everyone involved.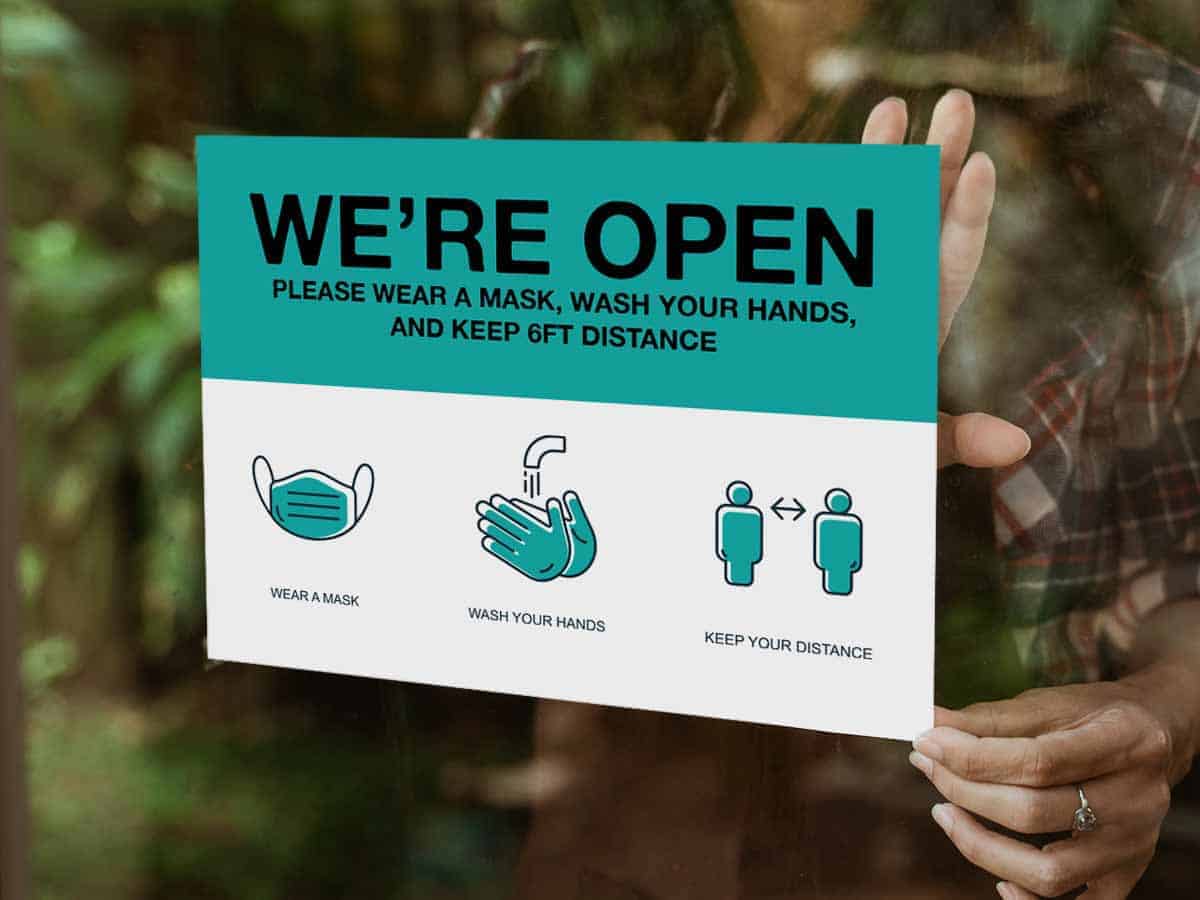 Almost all stores and businesses these days are requiring guests to wear masks. Some states have even applied executive orders to enforce them. If this is not going on in your area, we can assume that most business owners are at the very least encouraging their customers to wear one for safety. Having clearly posted signs on your storefront windows can help set expectations for your staff and customers while inside your store. Custom shape window decals, specifically in our window cling or removable adhesive vinyl materials are excellent options when posting signage at your storefront. They are easy to apply, can be indoor or outdoor facing, and won't leave a sticky mess behind once removed. Granted, not all visitors will follow your posted window signs, but you can encourage more people, which allows everyone to feel safer while within your space.
Curbside Pickup or Delivery Signs
Our country's new social distancing guidelines go far beyond just maintaining physical distance between people while in confined areas. These guidelines have become an entirely new way of living. Since COVID-19 has been shown to spread mainly through the air, limiting unnecessary public contact has been key to stopping the spread and flattening the curve.
For example, we've seen restaurants and bars begin to step up their carryout and delivery offerings to help avoid exposure and encourage more people to stay at home. These new safety strategies offer new opportunities to businesses to announce to their patrons that they are not only open but also ready to deliver at curbside. Using advertising signs such as A-Frames or Yard Signs can help efficiently guide the increasing number of carryout customers to the correct instructions, or into the right spot for delivery.
With more businesses increasing their sanitization schedule, it is also important to display these efforts to staff and customers. This is as simple as adding small signs to place on surfaces to indicate an area has been recently cleaned. These types of signs can often be found on tables in restaurants, near shopping carts in the grocery, or on high touch countertop areas. Displaying what steps a business is taking to make a safer experience not only helps put the customers' mind at ease but also helps hold staff accountable. An employee will be less likely to forget their cleaning duties if signage is clearly posted within the space. Sanitization signage is most commonly added to walls near the sight. This allows the message to be clearly posted to anyone within the area. Using custom shape wall decals is a fast and affordable way to create your own custom sanitization signage that will keep your customers in the loop of what is happening behind the scenes.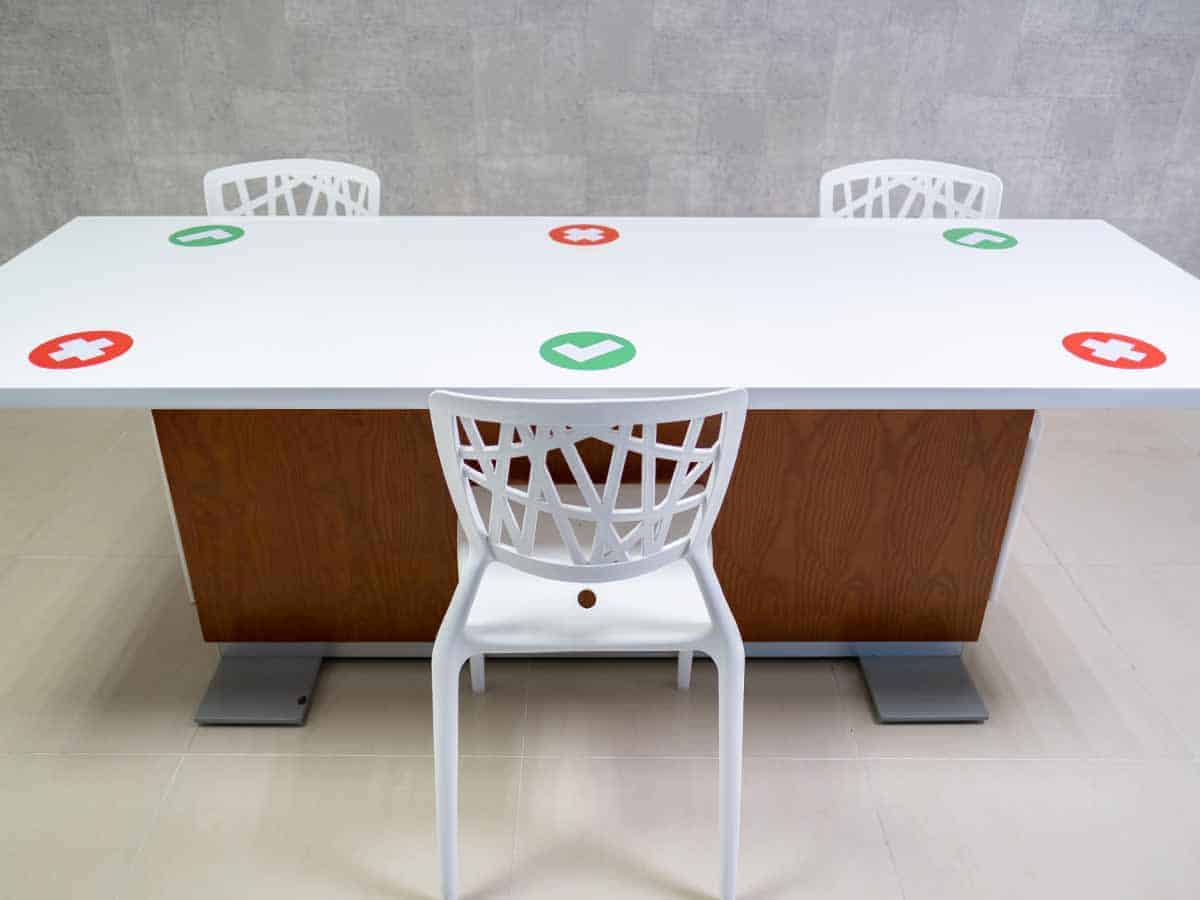 During these times of COVID-19, safe distancing has become a topic on just about everyone's mind. From what we understand so far, all of us will need to continue to exercise social distancing of at least 6' in all social and retail environments well into the near future. Because of this, public spaces, entertainment areas, and restaurants are being forced to resort to quick fixes that help people feel safer.
We don't have to look far to realize the concept of sensible social distancing is out there already. People have already proven to be conscious enough to keep their distance in various social settings. Although, as a business or restaurant owner, a sensible solution would be to include seat markers for spaces that should be left vacant. Doing this not only sets guidelines but also encourages everyone's civic consciousness. Creating safe seating signage that can be integrated in a non-intrusive manner can help make people feel at ease in public places again.
Learning to adjust to this new way of living is no easy task, but incorporating custom signage can help play a vital role in your strategy. That is why Want Stickers is here to help you create effective and inexpensive decals that grab attention and guide patrons toward doing the right thing. We understand that during this difficult pandemic, both time and money are of the essence when it comes to making your business a safe place. Our team is here and ready to serve you with custom, quality signage. Contact us today for a quote and start exploring your options.